How One Hospital is Helping Nurses Cope With COVID-19
July 7, 2021

Henry Ford Allegiance Health invested in a concierge benefit that is helping their nurses get through the pandemic's peak.
Shelley, a clinical nurse manager at Henry Ford Allegiance Health (HFAH), could see the 12-hour nonstop days managing patient care in three of the hospitals' COVID-19 intensive care units were taking a toll on herself and her critical care team.
To cope, the 15-year HFAH veteran tapped one of the hospital's unique wellness benefits — concierge and errand running services.
Using Wellness Benefits to Cope With COVID
The concierge ensured Shelley and her team's basic needs were met as an overwhelming number of acutely ill COVID-19 patients flooded HFAH's ICUs.
When meal breaks were no longer doable, Shelley relied on the concierge service to deliver food to the ICU. After snack runs became impossible, the concierge sprinkled the critical care team with energy-fueled goodies.
And when a decent cup of coffee was nowhere to be found, the concierges hand-delivered Starbucks. Shelley and her team even had their gas tanks filled by the concierge. In short, the service made the nursing team's grueling 12-hour days possible. "It was a lifesaver to have someone to call on to help us," Shelley said.
Wellness Benefit: Beating Nurse Burnout
After a disastrous year, hospitals have begun offering wellness benefits, like concierge services, for nurses and other clinical staff to reduce burnout and turnover.
An alarming 38% of nurses are suffering from burnout and it's driving turnover costs through the roof—  two problems hospitals were struggling with well before COVID-19.
Pre-pandemic, 17.5% of hospital nurses left their first job within the first year, while an astounding 33.5% left within the first two years. As a result, hospitals spend upwards of $6.9 million in turnover and recruiting costs annually.
In 2003 HFAH was ahead of the curve on wellness benefits. That year they partnered with Best Upon Request (BEST), a national concierge company. BEST's highly-trained concierges do everything from running simple errands to managing complex requests.
The concierge team provides time-saving services for HFAH's staff, such as on- and off-campus errand running, grocery shopping, lunch delivery and home-based help.
Wellness Benefit Results
The wellness benefit is a big hit among HFAH's clinical staff, but it's especially popular with bedside nurses: at 25%, they comprise the largest user group.
The high utilization rate among nurses indicates a genuine need for quality-of-life benefits that tangibly support busy medical professionals.
On average, each concierge service saves HFAH's hospital staff 45 minutes.
Cindy Harrison, vice president of human resources at HFAH, explained that employee experience has always been central to the hospital:
"It is very important to Henry Ford Health System that our staff members feel appreciated for the value they contribute to the success of our organization."
There's no doubt the concierge team is making life easier for HFAH's staff. The wellness benefit has reduced stress for 99% of users and improved their focus on work-related tasks.
In return, employee loyalty has increased; a majority of HFAH's concierge users report the service makes them feel valued .
The hospital's lead concierge,  Ronda Taylor, said, "Being a concierge is such a rewarding position, and I love making people's lives easier especially when they have too much on their plate already."

Benefits That Maximize Nurse Wellness
Investing in wellness benefits like concierge services was a strategic move for HFAH. One that paid off. Because in what's gearing up to be a tight labor market, the hospital has positioned itself to be an employer of choice.
"We have always been devoted to providing a workplace that fosters work-life balance, and by offering concierge services, we are helping to achieve that goal by making employees' lives less stressful and complicated," said Harrison.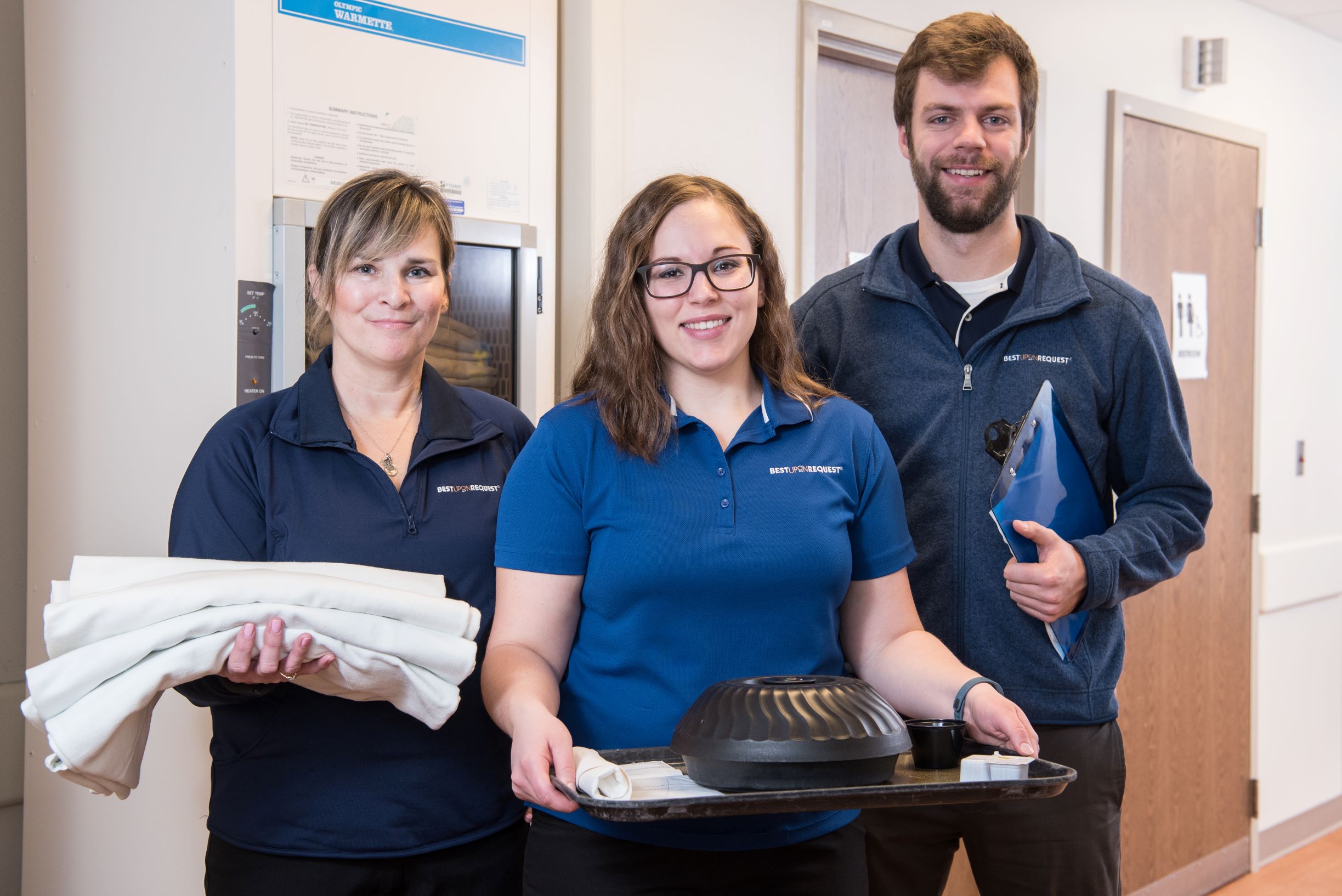 Wellness Benefit: Improve Work-Life Balance
For Shelley, the employee benefit quickly evolved from "what's this?" to "please don't ever take it away!"
After increasing her shifts at the hospital, Shelley's life outside of work began to fray, like the hem of an old pair of jeans. Her colleagues encouraged her to use the hospital's concierge benefit, but she wasn't so sure.
Towards the end of a particularly gruelling shift Shelley caved. Exhausted, she reached out to the concierge and requested a grocery shopping service. An hour later Shelley watched as the the concierge loaded groceries into the back seat of her SUV. That was her first concierge service and she's been hooked ever since.
"I tried it out, and now I don't know what I'd do without them sometimes," Shelley said. "The concierge gives you those little wins throughout the day. To be able to take things off my plate like picking up groceries because I'm exhausted after a 12-hour shift. It improves the quality of your life."
Making life more manageable is what HFAH set out to do when they invested in Best Upon Request's concierge services. Little did they know, at the time, what an outsize role the concierge would end up playing in the biggest healthcare crisis of the 21st century.
Is your hospital being challenged by nurse burnout?
Learn more about Best Upon Request's employee benefit solution: Healthcare Employee Concierge Services