Patient Concierge Services
Take your hospital's patient experience to a whole new level.

Improve your hospital's patient experience one service at a time.
Make a stay at your hospital feel like home by providing patients, their family members and guests with convenience and errand running services both on and off campus.
Fill the gap between social and clinical services without overextending your staff.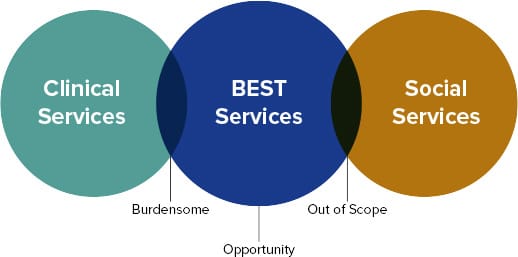 Improve patient and guest satisfaction
99% of surveyed patients agree their hospital experience improved because of the concierge service.
Reduce anxiety and increase clinical compliance
100% of surveyed patients agree the concierge service helped reduce their stress level.
98% of surveyed patients agree they are more likely to refer someone to the hospital because of the concierge service.
Learn about our dedicated Patient Concierge Programs
Service Examples: It's as easy as A, B, C and D!®
Service Examples: It's as easy as A, B, C and D!®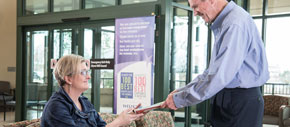 Our concierges book travel arrangements for guests, purchase special toiletries, retrieve forgotten items and coordinate shipping.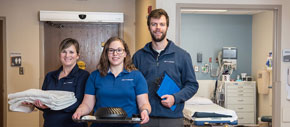 Some of the services patients and families appreciate at the bedside are food delivery from local restaurants, mail retrieval, assistance planning special celebrations, banking and notary services.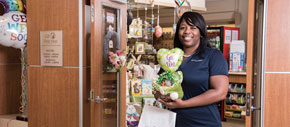 Make your organization truly patient-centric by elevating customer service. BEST concierges can provide wayfinding services, handle patient complaints and service recovery, facilitate a lost-and-found system and provide front desk help.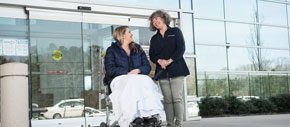 BEST will ensure that your guests leave in comfort. Our patient concierges can transfer belongings, pick up prescriptions and supplies, deliver groceries, arrange transportation and wait with patients.






Patient Customer Testimonials
Patient Customer Testimonials
"They were everything. They delivered groceries, food, and flowers during COVID when I was pregnant and not going into stores. They pick up packages, get supplies needed from any store I request, and make it happen the same day. Truly a great blessing to my life and helped with my stress load. Also, all three ladies are just lovely people. I love the concierge service and think it's great for new moms like me!"
"Concierge had gone over and above for us in every way! [They] are absolute gems. With COVID precautions preventing my spouse from being here to help I have relied so much on the concierge to be extra hands (and a car) to manage transitions from in-patient to housing (and back). [The] team also picked up a replacement charger for my son's tablet and prevented so much anxiety for him!"
"[The concierge team has] been instrumental in my child's care. They have helped me move to housing, send letters, service my car, get a meal delivered, all while giving my daughter a smile. They have showered her with gifts and made her smile on dark days. You truly have assets in these three ladies and we hope you know how much they have done to not only increase the good outcome in her care journey, but helped me focus on her care. They are so kind and thoughtful. We will never forget the kindness they have shown to our family!!!"
"This service is amazing! I'm telling all the pregnant moms I know to have their babes at [this hospital] so they can experience this service! 5 stars! ... The flexibility to get some meals we wanted instead of ordering from the cafeteria again. This was by far the best thing about our hospital stay and made us feel so comfortable. This service would make me choose [this hospital] over other hospitals every time."
"[Our concierge] helped out so fast and was calm and caring. Our only pleasant experience came from someone who was not in medical. She was great at making my hard time much better. She's the best!"
"Best Upon Request service is top rate. [The concierge] gave me exceptional, professional, friendly service. The best experience I've ever had in a hospital."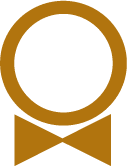 Because of our commitment to the patient experience, BEST is included in The Beryl Institute's Marketplace