What Hospital Leaders Need to Know About the Future of Healthcare Labor
April 21, 2022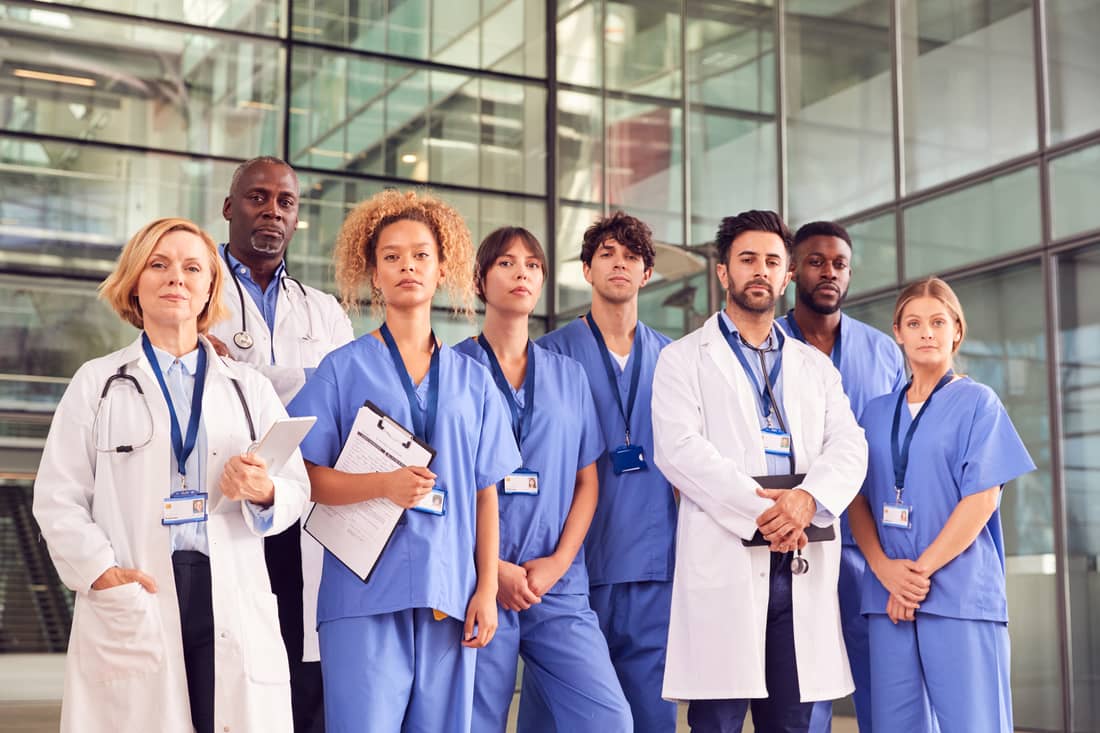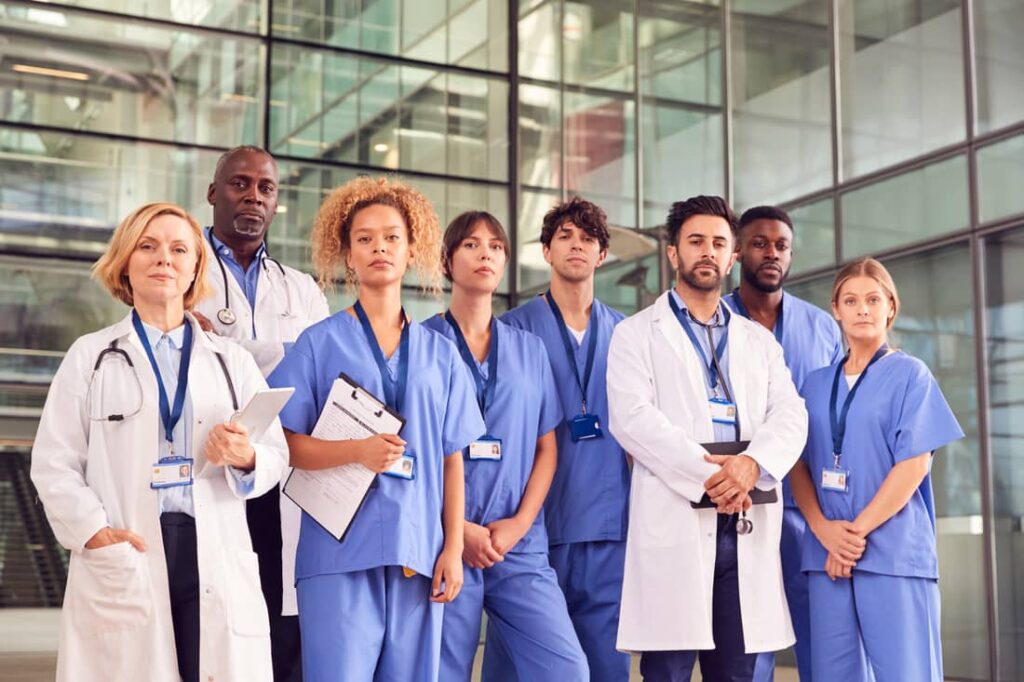 COVID-19 is no longer the biggest crisis facing hospitals.
Between nurse and physician shortages, pandemic fatigue and the loss of non-clinical staff to competitors, healthcare organizations are facing a full-blown labor crisis.
If things don't begin to change, research shows that by 2024, a little over 33% of healthcare workers will leave the profession.
The good news is that leaders can begin future-proofing their organizations by focusing on six labor market forces shaping the future of staffing.
1. Labor Shortages & Rising Labor Costs
Facing one of the tightest labor markets in memorable history, hospitals are spending more to attract and retain talent.
Since the pandemic began, nearly 1 in 5 healthcare workers have quit. Hospitals are also losing candidates for non-clinical roles like environmental and dietary services to employers such as Amazon and other big-box retailers.
As a result, staffing shortages and labor costs will continue to increase at faster rates than revenue growth, according to an industry outlook published by Moody's Investors Service.
2. Recruiting & Turnover Costs
Hospitals are offering higher wages and other financial incentives like performance-based bonuses and tuition reimbursement to prevent nurses, allied health professionals and non-clinical support staff from joining the ranks of the Great Resignation.
At the same time, health systems are increasing salaries and offering sign-on bonuses to attract more talent.
Benefits that improve financial, emotional and physical well-being have regained popularity. Hospitals are investing in these perks to reduce turnover and differentiate themselves from the Amazons of the world.
Finally, hospital leaders are adapting to new generational attitudes toward work. Millennials are expected to make up three-quarters of the U.S. labor force by 2030, and Gen Z is not far behind. These generations place a higher value on work-life balance and emotional well-being than their predecessors.
3. National Focus on Hospital Staffing Ratios
The nurse labor shortage brought hospital staffing models into the national spotlight, creating a potential PR nightmare for health systems.
Bedside nurses battered and broken by the pandemic claim that dangerously high patient loads are partially to blame for rampant burnout and nurse staffing shortages.
In a startling new survey, 90% of RN respondents revealed they're considering leaving the nursing profession within one year if staffing issues, poor environments and patient flow challenges go unaddressed.
Federal Intervention
In response, nursing unions like the National Nurses United, the nation's largest union and professional association of registered nurses, have mounted national campaigns urging the federal government to intervene by passing legislation mandating nurse-to-patient staffing ratios.
For example, in May of last year, S.1567, The Nurse Staffing Standards for Hospital Patient Safety and Quality Care Act, which would federally mandate hospital staffing ratios, was reintroduced to congress after dying in the 2017-2019 legislative cycle.
The American Hospital Association has officially cautioned against this move, warning that a one-size-fits-all approach could worsen the problem because it does not account for the complex set of variables that determine successful staffing models. But this has not stopped similar legislation from being proposed at the state level.
4. PR Nightmares
Although these calls for state and federal intervention have largely been unsuccessful, they are creating a PR disaster for health systems.
For example, who can forget the New York Times opinion piece "We Know the Real Cause of the Crisis in Our Hospitals. It's Greed," published in January. Or the viral petition started by "Nurse Blake" discussing unsafe nursing conditions gathering 150,000 signatures in 48 hours.
Headlines such as these warn hospitals that business as usual for healthcare labor is not going to work. A better idea for leaders is to get ahead of these changes by balancing the bottom line with labor market demands and avoiding public scrutiny.
5. Increased Labor Union Activity
Another alarming labor market trend is increasing labor union activity. Turning to labor organizations seems like the next step for burned-out medical staff.
This point became quite prevalent last year, with hundreds of strikes countrywide.
For instance, the 800-nurse strike in Massachusetts lasted nearly 10 months and the strike in Buffalo dragged on for 40 days.
It's highly likely labor union action will continue, causing more staffing strikes and shortages over time. This is another significant reason hospitals should focus more on employee satisfaction and support.
6. License Backlogs
License backlogs are exacerbating labor shortages by preventing nurses and other clinical staff from seeing patients.
Typically vetting and licensure only take a couple of weeks. But nursing graduates and foreign caregivers are now sitting in license limbo for months on end.
Overall, 1 in 10 nurses who received new licenses from nursing boards in 2021 waited six months or longer, according to in-depth research by NPR. More than one-third of the nurses waited at least three months.
However, state boards face a labor crisis of their own: staff shortages and remote work have slowed processing times.
In addition, workloads have dramatically increased, with thousands more applications being submitted than in prior years; primarily a result of traveling nurses riding COVID-19 waves across the U.S.
State Intervention
Some health systems have found a temporary fix with temp licenses, but with such heavy backlogs, temps are expiring before care providers receive their permanent license.
State leaders are also getting involved. For example, Governor Ducey of Arizona signed a bill further extending temporary healthcare workers' licenses just weeks ago.
Moving forward, healthcare organizations (especially hospitals) should closely monitor peripheral bureaucratic messes like this to find solutions before the red tape creates bottlenecks in staffing.
Labor shortages are the new healthcare crisis. To future proof their organizations, healthcare leaders should consider:
Adapting to shifting generational attitudes about work.
Creating cultures that attract and retain talent.
Investing in benefits that help busy clinical associates balance personal and professional demands.
Ending the dependence on short-term labor solutions and reconsidering staffing ratios.
It's a tall order given the day-to-day challenges associated with keeping health systems fully staffed; however, as Benjamin Franklin once said, "An ounce of prevention is worth a pound of cure."