A Year of Transition, Transformation and Growth
December 14, 2022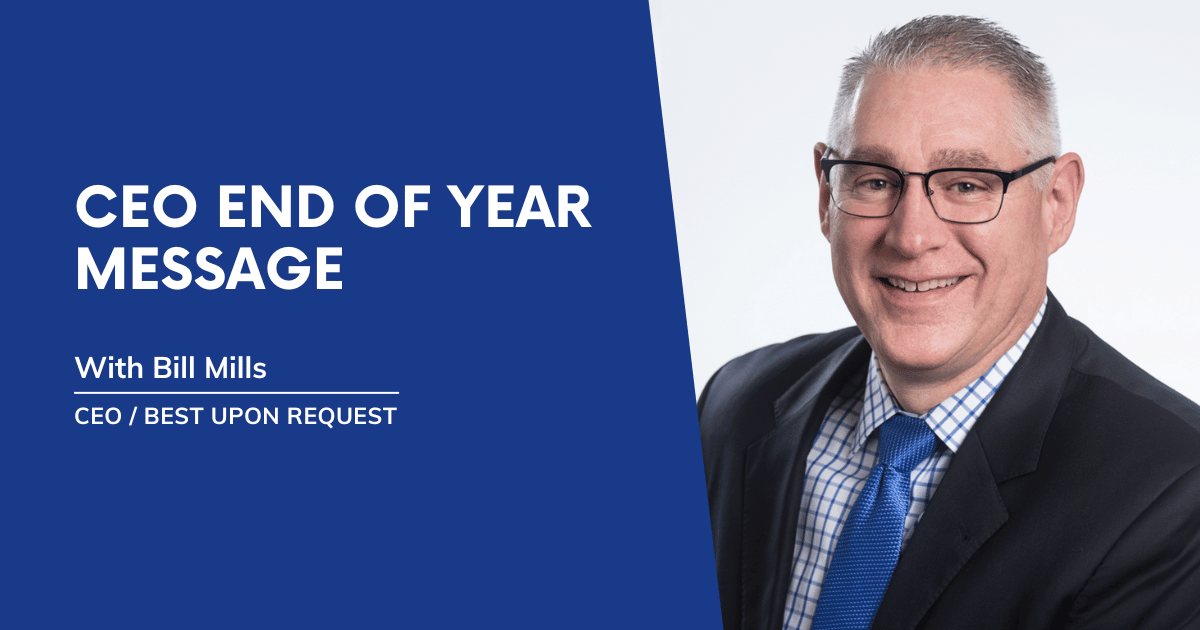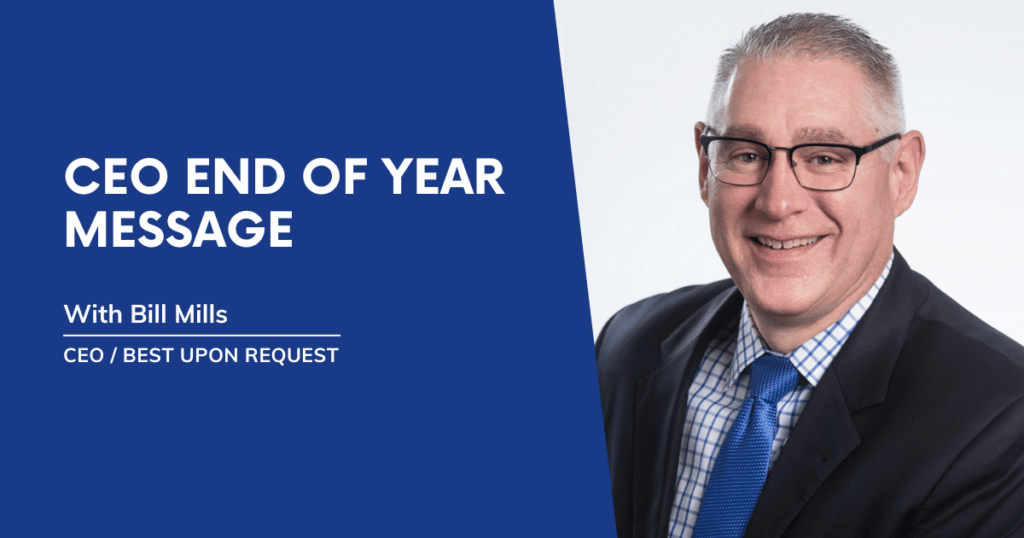 2022 was a busy year filled with transitions, transformations and growth for Best Upon Request.
By Bill Mills, Chief Executive Officer
I want to start with a heartfelt thank you to our clients, customers, business support partners and fantastic team members for a successful 2022.
Without your resilience and resourcefulness, Best Upon Request (BEST) wouldn't have been able to thrive during the unprecedented times we find ourselves in.
The past three years have been turbulent, from COVID-19 and labor crises to the looming recession. Still, despite these challenges, 2022 was a year of transitions, transformations and growth for BEST.
I'd like to warmly welcome our new clients whose trust was instrumental to successful launches, and I want to offer my heartfelt gratitude to those clients who valued us enough to expand our reach and impact to more constituents.
BEST is a continuous improvement company. Our team is on a journey to consistently improve all elements of BEST as an organization. From an internal growth perspective, we did just this.
Every department made advancements in 2022. Our most significant advancement as an organization was our investment in technology.
In June, we rolled out the latest version of our concierge app, BestURequest, which enhanced BEST's customer experience.
I'm delighted that BestURequest was awarded the Best Mobile App of July by Best Mobile App Awards, a platform highlighting the latest and greatest apps in the marketplace.
We also enhanced our team member experience by rolling out an app for our concierges that increases efficiency and convenience.
Finally, BEST invested in a new learning management system to enhance the learning experience for our team members.
And because trust is one of BEST's core values and greatest differentiators, we remain vigilant in managing cybersecurity to protect client and customer data.
In 2022 BEST also embraced the winds of change by adopting a hybrid work environment that has not only given our corporate team members more flexibility and greater work-life balance but has also allowed us to tap into the full potential of our multi-state workforce.
This is one of the reasons BEST was certified as a Great Place to Work for the fourth consecutive year!
Internal organizational changes continued throughout 2022 as we promoted team members and welcomed new staff.
In October, we completed the redesign and move of our corporate headquarters to a space that better meets the needs of our dynamic and highly collaborative culture.
This year, Tillie Hidalgo Lima, BEST's owner and CEO of 19 years, transitioned to the role of executive chair while I took up the torch of CEO, an opportunity I'm both honored and humbled by.
As BEST enters its busiest season, we remain a small but mighty team looking forward to finishing the year off strong and starting 2023 even stronger.
For now, let me again give a big thanks to all of you. On behalf of myself and BEST's leadership team, we wish you good health, happiness and great success in the year ahead.