The Year of the Patient
May 26, 2019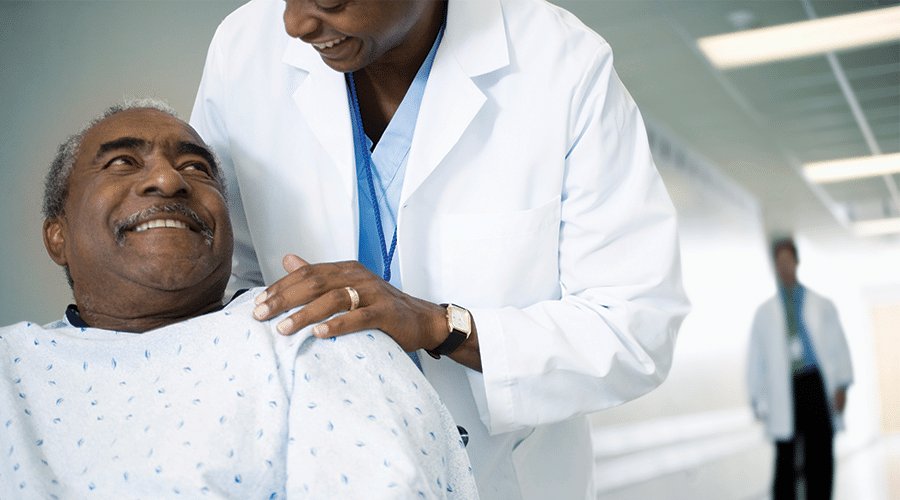 2018 was revolutionary for healthcare consumers because patient experience was adopted by the mainstream as a non-negotiable of adequate care.
As a result of this integration, healthcare has moved towards a more holistic, patient-centered paradigm. Thus far, 2019 is shaping up to be the same.
Our team was looking over the patient experience movement's history to gain a deeper understanding of its rise. We ended up creating a collection of visionary quotes that reflect the evolving definition of patient experience over the past decade. Here, in no particular order, are eight of the best patient experience quotes from four different perspectives: physicians, nurses, patients and families, and the C-suite.
Patients and Families Define Patient Experience

"It's a very broad and open term that encompasses not only what goes into the care relationship in the clinic or in the hospital, but really the continuum of care … how our healthcare team works together regardless of where the patient sits."
Libby Hoy in her contribution to The Beryl Institute's research on patient voices in healthcare. Hoy is the founder of Patient & Family Care Centered Partners. She has more than 20 years of experience navigating healthcare systems, advocating for three of her sons that live with mitochondrial disease.
"It is what you go through emotionally, physically and financially. It is how the healthcare process affects the family and family dynamics and a patient's life."
Alicia Cole, founder of the Alliance for Safety Awareness for Patients (ASAP), shared with The Beryl Institute how she defines the patient experience. Alicia almost died after contracting multiple hospital-acquired infections including Necrotizing Fasciitis after a routine medical procedure.
Nurses Define Patient Experience
"When you think about 'patient satisfaction', your mind may automatically go to the superficial: making patients happy and being nice. 'Patient experience' is the totality of the experience. The clinical, operational, cultural, and behavioral – everything that happens to, about, and with the person who happens to be a patient."
Christy Dempsey, chief nursing officer of Press Ganey Associates in her interview with the Center to Advance Palliative Care.
"The real opportunity to have a significant impact is to truly understand and strategically design the experience of care around the patient and the patient's journey. 'Good service' is about being polite, helpful and courteous, and should absolutely be expected. Those attributes are the minimum level of competence. [Our focus on patient-centeredness and experience] is not a program or initiative. It's how we do business. We talk about it in the same context as patient safety and quality and financial planning or engagement. Instead of focusing on service alone, hospitals should be concerned with access, coordination, efficiency, information, shared-decision making and compassion."
Kristine White, RN with Spectrum Health, in an interview with Becker's Hospital Review.
Physicians Define Patient Experience
"It all starts by caring enough to engage the patient in the decision-making. Many people argue that 'We don't have time for this in the consultation. I'd rather just tell people what I think is best for them and then they can decide whether they want it or not.' Well, that's not very caring. This might be efficient, but it does not reflect the best that we can offer."
Dr. Victor Montori asserts that a key component of excellent patient experience is shared decision making during an interview with the Institute for Healthcare Improvement.
"The question for healthcare leaders today is how do we make patient care a fundamentally better experience across the continuum? That includes safety, quality, and service. It also includes making healthcare more connected so that we promote wellness care as well as disease care. We also need to integrate distance health, so people can stay at home and at work. And, finally, how do we significantly reform our archaic payment system. Addressing those challenges will truly be transformative, and transformation is one strategic objective we should all be thinking about."
Dr. James Merlino stated in an interview with Forbes about customer service in healthcare.
C-suite Defines Patient Experience
"For too long, we separated the quality of care and the experience of being cared for as two separate things. In reality, I think most care providers said, 'My job is to cure and those other things – well, they're someone else's job.' If a patient leaves our hospital and says we disrespected them, you better believe that's a harm, and we have to do something about it."
Peter Pronovost, chief clinical transformation officer at University Hospitals health system, said in an interview with PatientEngagementHIT.com.
"Patient experience is an all-encompassing word for the reality and the perception that your patients have of the experience they are having at that moment. And I say to people all the time that the entirety of their experience can often be perceived for the one lowest-denominator moment. So, that means that you can't have any of those. Every moment of their experience has to be excellent."
Roberta Levy Schwartz, executive vice president, The Methodist Hospital, said to The Beryl Institute.
Eight definitions of patient experience from four different perspectives in healthcare all agree on one factor: great experience requires a patient-centric culture.