Oncologist Taps Wellness Benefit to Prevent Burnout
March 15, 2022
Dr. Doug Flora, a successful oncologist, husband and father, describes his life as "professionally successful, but time-bankrupt."
For the last 20 years, Dr. Flora's personal life has taken a backseat to his patients.
"I'm at an 80-hour-a-week job that I have to fit into 60 hours, so my traditional default is: Ignore everything but work," he said.
But thanks to a unique wellness benefit Dr. Flora's employer, St. Elizabeth Physicians, offers, his life has become much more manageable.
The practice began offering concierge services to its physicians and advanced practitioners as part of a larger effort to maximize provider wellbeing.
"The concierges are like a close colleague that is imminently available to make my life manageable," Dr. Flora said.
Value on Investment
Dr. Robert Prichard, chief executive officer for St. Elizabeth Physicians (SEP), partnered with the company Best Upon Request (BEST) to provide full-time concierge services to the multi-specialty group, comprised of 451 physicians and 244 advanced practitioners, after a committee of physician leaders began looking for new and innovative solutions to increase physician wellbeing and reduce turnover.
"The concierge service is such a small investment when you think of it on a per physician, per provider basis. And if it keeps one doc from leaving, it's probably paid for itself." Dr. Prichard said.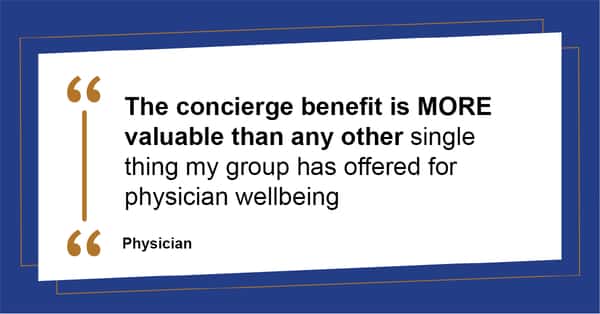 Wellbeing Benefits Trend
Healthcare organizations have been adding new wellness benefits for physicians in the past few years to reduce provider stress and prevent burnout. It's estimated that the physician burnout epidemic impacts 83% of healthcare organizations.
Altogether, burnout costs the healthcare industry $4.6 billion annually. Many say, next to COVID-19, it is the biggest public health crisis facing the U.S. as physician burnout is also associated with lower-quality patient care, increased medical errors and poorer patient outcomes.
This has leaders like Dr. Prichard asking, "How can we take better care of ourselves so we can take better care of our patients?"
For St. Elizabeth Physicians, the answer was investing in highly targeted benefits with a proven track record of success.
The concierge perk reduces the friction between physicians' personal and professional lives by serving as a resource to offload common time-sucks like household responsibilities, personal tasks and errands.
Dr. Flora, who describes his life as "professionally successful but time-bankrupt," said that even simple things like buying a birthday present for his wife have proven to be overwhelming.
"My choice is to see the dying cancer patient or get the gift for my wife, and my wife always loses," he said. This is precisely the type of work-life friction the concierge service seeks to solve.
Outcomes
There's no doubt the concierge team is making life smoother for St. Elizabeth's physicians. The wellness benefit has reduced stress for 99% of users, and 97% feel the concierge service has improved their focus on work-related tasks.
User feedback also revealed the perk makes physicians feel valued; as a result, SEP's engagement rate increased by 10 percentage points within the first year of offering the service. On average, physicians save 30 hours a year by outsourcing their to-dos to BEST's concierges.
Customer feedback showed that most physicians invest extra free time into their families and direct patient care.
This year Dr. Flora's wife finally got the gift she deserved. Veronica, a concierge team member, sourced some hard-to-find items for a customized gift basket. She assembled and styled the basket and then delivered it straight to Dr. Flora's office.
"In my new life, I have a concierge to take care of the things I used to sacrifice in my personal life, and my life is better for it," he said.