Four Ways COVID Has Changed Healthcare Consumerism
October 6, 2021

To survive in a competitive industry healthcare organizations must adapt to new patient behavior.
COVID-19 has kicked healthcare consumerism into overdrive and it's changing the way consumers make healthcare choices. In fact, 47% of adults will change how they access care after the pandemic.
Consumers will also be more selective about what procedures they get and where they get them. Meanwhile, cost is playing a bigger role in care selection than ever before.
Adapting to these patient paradigm shifts will be essential for healthcare organizations to recapture patient volumes lost in 2020-2021.
To successfully reengage the post-COVID healthcare consumer, medical systems should consider four factors:
1. Creating more value for consumers.
2. Emphasizing convenience.
3. Expanding patient engagement technologies.
4. Practicing price transparency.
1. Driving Value
With nearly half of Americans more concerned about healthcare costs now than before the pandemic, perceived value will have an outsized impact on consumers' healthcare choices.
Patients are placing a premium on convenient, low-cost, high-quality healthcare, and they're not scared to shop around for it. And with new price transparency regulations on the horizon, it will be easier than ever for consumers to comparison shop for medical procedures.
At the same time, traditional healthcare systems face stiffer competition with the Amazons, Dollar Generals and Walmarts of the world entering the marketplace.
In fact, noted NYU professor, Scott Galloway, told Forbes:
"Amazon and Walmart are … fighting the largest proxy war in the business world: [to dominate] healthcare."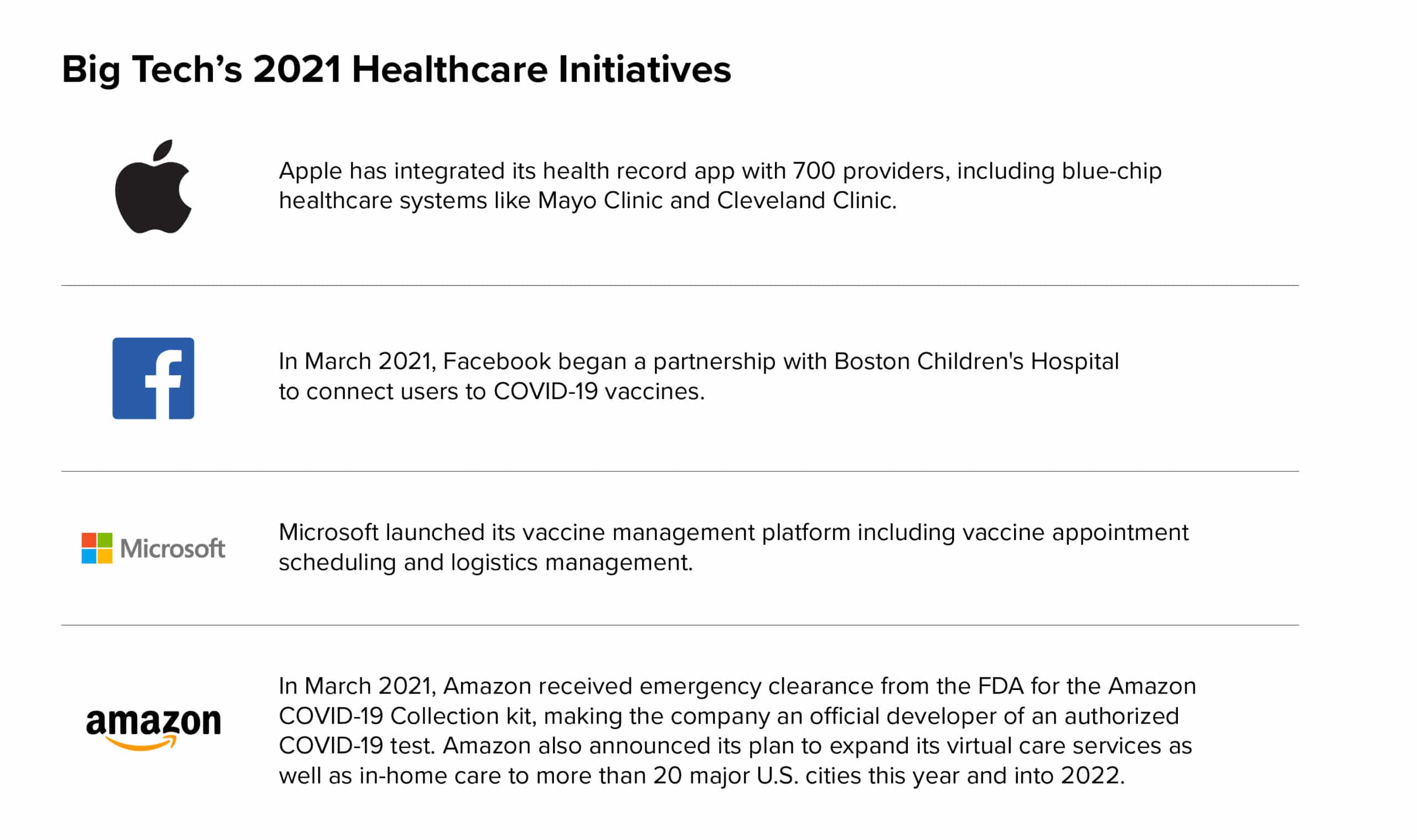 Industry disrupters coupled with technological revolutions spurred by COVID-19 have given consumers a taste of how convenient and transparent 21st century healthcare can be. And there's no going back.
"It cannot be overstated just how dramatically COVID-19 has accelerated the trajectory of consumerism in healthcare," said Helen Hrdy, NRC Health's chief growth officer. "Those organizations that are willing and able to evolve with the times will be best-positioned for success in the aftermath of COVID-19."
Can traditional healthcare organizations do consumerism better than Amazon or Walmart?
If they continue to adopt a more consumer-centric model that prioritizes quality and convenience while remaining cost-competitive, healthcare systems should give Amazon a run for its money.
2. Emphasize Convenience Over Loyalty
As COVID-19 continues to batter the healthcare industry and the competition continues to mount, brand loyalty is in a complete free fall while convenience is becoming a kingmaker.
In fact, 52% of healthcare consumers report that convenience is one of the most critical factors for choosing their healthcare provider.
At the same time, there's been a 5% increase in consumers who have no preference for a healthcare brand since 2018.
And those consumers who do have a strong brand preference are switching teams.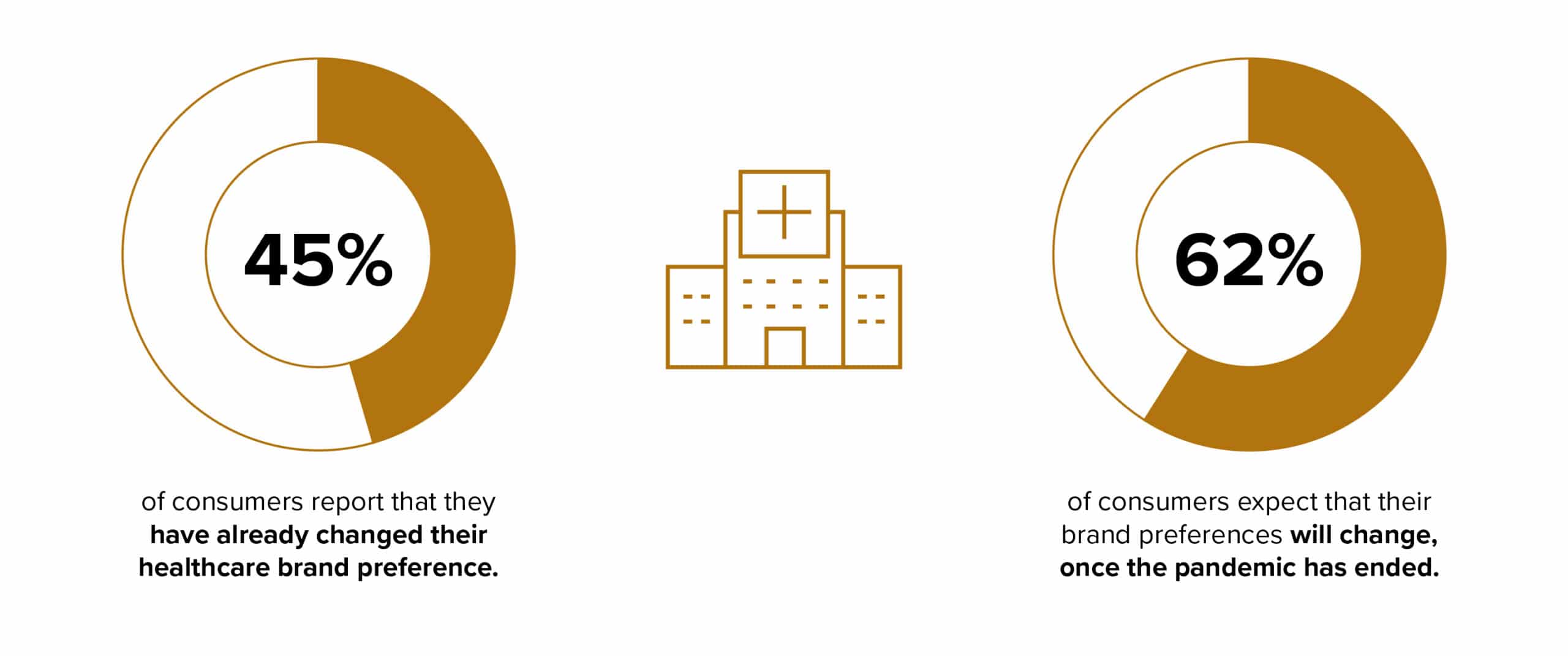 How healthcare organizations can capitalize on this shift:
Invest in digital innovations that increase access and convenience.
Radically embrace virtual care and patient engagement technologies.
Improve the patient financial experience by streamlining and digitizing bill pay.
Brian Wynne, vice president and general manager of NRC Health, told Healthcare Finance:
"To attract business, it's important to identify anything that could be cause for friction — in other words, anything that might be a barrier to the convenience consumers want."
3. Price Transparency
Price transparency is becoming one of the most significant value drivers for healthcare moving into 2022-2023, if for no other reason than it's the single largest opportunity to recapture patient volume and bolster brand loyalty.
Consider that 47% of patients would consider switching providers if they were given the option to understand cost at the time of scheduling, according to an Accenture report.
Or, that 40% of patients indicated they would switch providers to access more affordable payment options, according to Access One's recent Patient Finance Survey.
Startling statistics like these indicate that close to half of healthcare consumers could be up for grabs.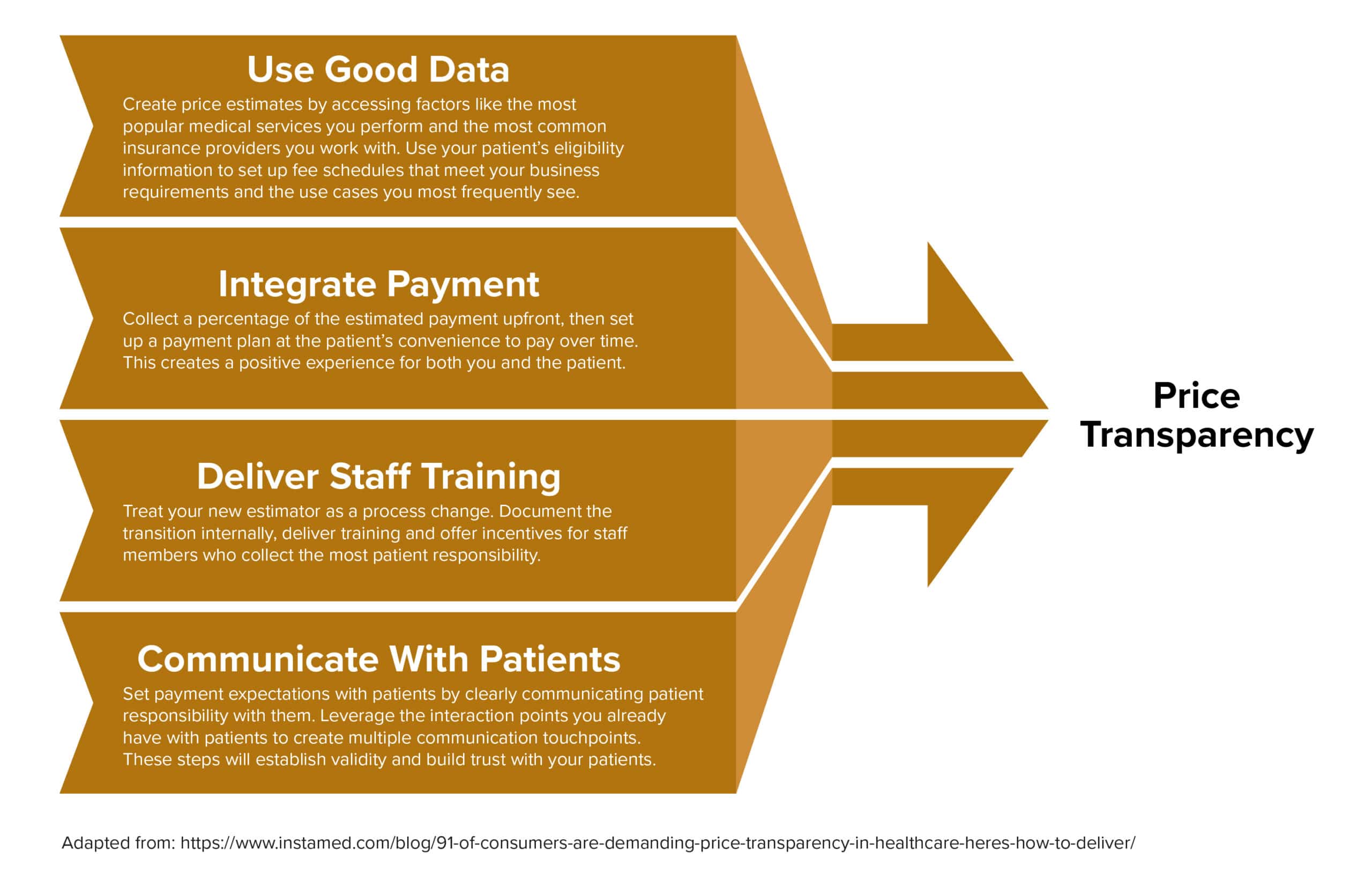 Moreover, the rollout of the Hospital Price Transparency rule at the beginning of 2021 officially ushered in a new era of cost clarity in healthcare, with even more changes coming in 2023 when the Transparency in Coverage Act is enacted.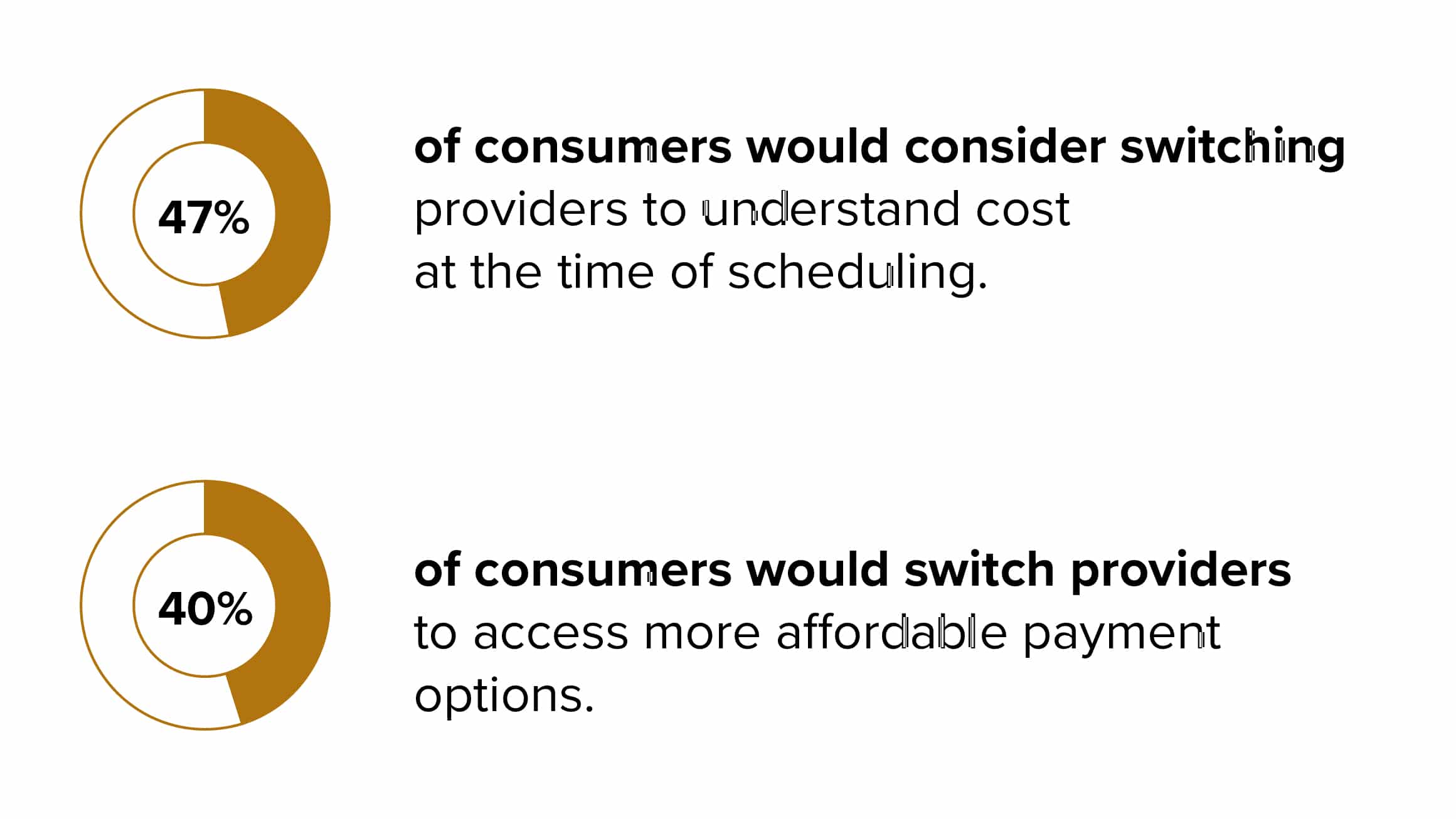 Healthcare systems that become early adopters of these new financial regulations will have the unique opportunity to position themselves as caring, trustworthy, forward-thinking and generous.
Even better, they'll have a once-in-a-lifetime opportunity to brand themselves as genuinely pro-consumer, something that will be difficult to establish for organizations that wait till they're strong-armed by regulations.
In a country where healthcare is always a contentious topic, it's hard to think of any other singular issue that enjoys the widespread support that price transparency does. Champion it.
4. A New Era of Virtual Care
The safety and accessibility challenges created by the coronavirus pandemic forced providers to fast-track patient engagement technologies.
From televisits to remote disease management, patients have grown accustomed to the convenience and accessibility virtual care offers.
Telehealth will be especially important moving forward. Its use has increased 38x since COVID-19's arrival. In fact, 41% of Gen Z and 33% of Millennials now prefer virtual medical appointments.
This has led some physician experts to believe that healthcare's future is hybrid; a mixture of both mobile and in-person care.
Healthcare Hybrid Model
Coronavirus also changed the way providers engage in chronic disease management. For example, virtual options like video conferencing, self-administering treatment and remote patient monitoring apps have made quality healthcare more accessible and convenient.
60% of patients want to continue using virtual care and communication tools for disease management, according to Accenture's COVID-19 Patient Survey.
Accenture's report also found that virtual care options enhanced patient experience. Overall, patients felt their care was more personable, convenient and timely.
Healthcare organizations should build on this momentum by expanding and enhancing digital tools and virtual platforms to create a hybrid care model for remote chronic disease management.
Healthcare consumers have grown accustomed to digital advancements and patient engagement technologies that have made medical care more accessible, convenient and sometimes less expensive. With future transparency rules on the horizon and private corporations flooding the field, traditional healthcare organizations that adopt an empathetic, consumer-centric healthcare model will be in a competitive position to recapture patient volumes lost during the pandemic.
Help your hospital recapture lost patient volume with BEST's healthcare concierge services. 99% of surveyed patients agree it improved their hospital experience.